Digital Signage Advertising
 Reach an average of up to 250,000 consumers per month in Lancaster County
Who Are We Reaching
Shady Maple Smorgasbord is the largest smorgasbord in Pennsylvania and Shady Maple Farm market is one of the best shopping destinations in Lancaster County. Approximately 110,000 people visit the Farm market each month (estimate based on an average of 72,500 transactions per month). The Smorgasbord serves an average of up to 140,000 guests per month (based on cash register transactions). It all adds up to about 250,000 people a month watching our large screens located in these venues. While many Shady Maple visitors are tourists, depending on the time of year, most of their customers and guests come from within a 50-mile radius of East Earl Township, Lancaster County.
These locations reach prospective customers while they are in a relaxed and leisurely frame of mind! Many visitors will see your ads at the perfect time, when they are out and about, and most receptive to stopping at your store or business or looking for a fun activity.
How We Reach People
Large Format Flat Screen TVs are strategically placed in the Smorgasbord and Farm Market. There is one 65 inch screen placed directly in front of the two cash register stations at the entrance to the Smorgasbord. Standing at about seven feet off the ground, the screen can be seen virtually anywhere in the lobby and is almost impossible to miss when entering the restaurant.
There are two 42 inch flat screens in the Farm Market placed in front of the Check out isles where people can see them as they wait to check out. We also have one over the Deli counter, which is the busiest counter in the store.
Your ad runs at least six times per hour.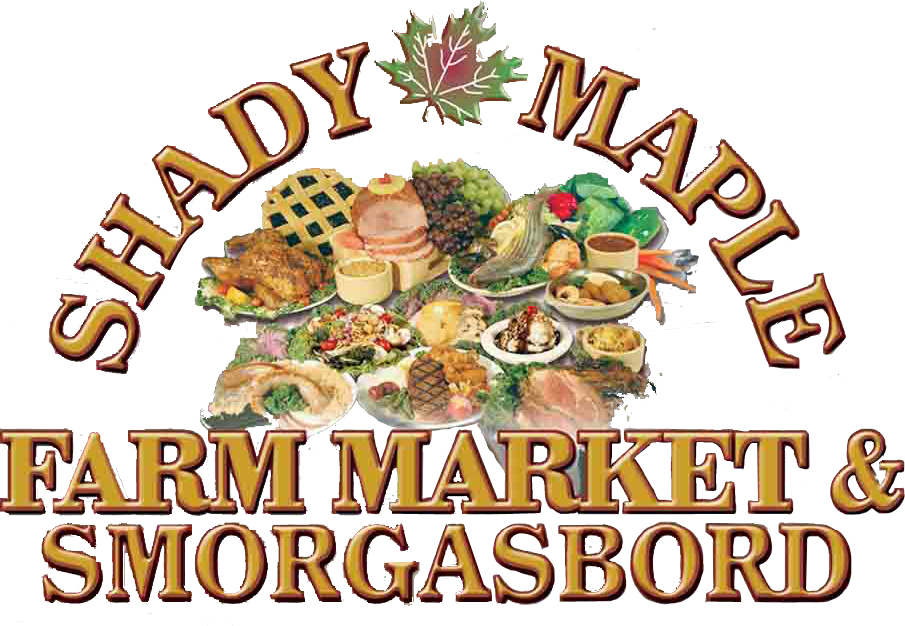 Video Of Screens In The Farm Market
New Feature
Rack Cards Below Video Screen
The video screen in the Shady Maple Smorgasbord has a new rack card display located immediately below the screen. Now, when people pass the video screen on their way to the dining room, they can grab one of your printed pieces to take along.
Video Screen With Rack Card Feature